What does it mean to not pay installments in three months? Know this
New Delhi: Last week, the Corona virus announced a concession on the monthly installment of the loan due to the economy and lockdown, to the annoyance of the general public. Banks have begun to deliver this relief to the people. Several banks tweeted this information so that the lender could breathe a sigh of relief on EMI. Some banks are providing this relief automatically, while many banks are providing this facility when demanding creditors.
Following the directive of the Reserve Bank, the banks started operations
Banks have avoided loan holders' EMI for three months. This will prevent them from paying the loan installment for three months. The banks have taken this step following the Reserve Bank's directive, asking for a three-month moratorium on loan repayment of all banks. Messages from EMI to customers are being withdrawn by banks.
That's all you have to do to push EMI
The bank is providing this facility, but it is important to understand how to avail it. It depends on which bank you are a customer on and your bank's EMI has already been withdrawn or the bank will do so upon receiving your call. In both cases you will need to contact the bank for relief. If you are a loan holder of Canara Bank then EMI will be available only if you inform the bank. For this you will have to choose NO to pay EMI and SMS NO to the bank.IDFC First Bank loan holders will have to break the EMI by email. Along with this, PNB and SBI have provided automatic relief over EMI. If you want them to issue EMI payment to the customer then they have to pay it at the branch.
In view of the Corona virus epidemic, it was decided to avoid interest on all installments and cash credit facilities of term loans from March 1, 2020 to May 31, 2020. Several other banks also - such as the Moratarium - introduced a loan installment. These include Indian Bank, UCO Bank, Central Bank of India, Indian Overseas Bank and IDBIM.
Banks finally start moving on 3-month loan EMI deferment, after push from govt and RBI
New Delhi: Indian banks finally got moving Tuesday to give relief to borrowers by allowing a three-month deferment of loan EMI repayments, four days after the announcement by the Reserve Bank of India to help ease the financial impact of the coronavirus outbreak.
The implementation of the package had apparently been delayed due to confusion about the modalities, forcing the finance ministry and the central bank to intervene Tuesday.
The Department of Financial Services under the Ministry of Finance directed banks to pass on the benefits to the customers at the earliest and ensure the message is communicated to all branches, said a finance ministry official, who did not wish to be identified.
The central bank will answer some frequently asked questions (FAQs) to address the confusion, an RBI spokesperson said.
On Friday, RBI Governor Shaktikanta Das had announced a three-month loan moratorium for all term loans, providing a massive reprieve to borrowers. The loan moratorium meant that borrowers would not have to pay equated monthly instalments (EMIs) either for the loan or on the interest for three months.
It was part of the central bank's attempts to insulate borrowers from the economic fallout of Covid-19 that has forced many small businesses to shut shop, leading to job losses.
The RBI notification had clarified that interest will continue to accrue on the outstanding portion of the loans during the moratorium period, clearly encouraging those who can afford it to continue paying their EMIs.
Some banks offer clarity
Most state-run banks, including Canara Bank, Punjab National Bank (PNB), Bank of India (BoI), Bank of Baroda and the State Bank of India, took to social media Tuesday afternoon to announce that borrowers were eligible for the loan moratorium as they detailed the process of availing the scheme.
A State Bank of India spokesperson told ThePrint the moratorium will be applicable to all term loans and the bank will shortly put out details on its website.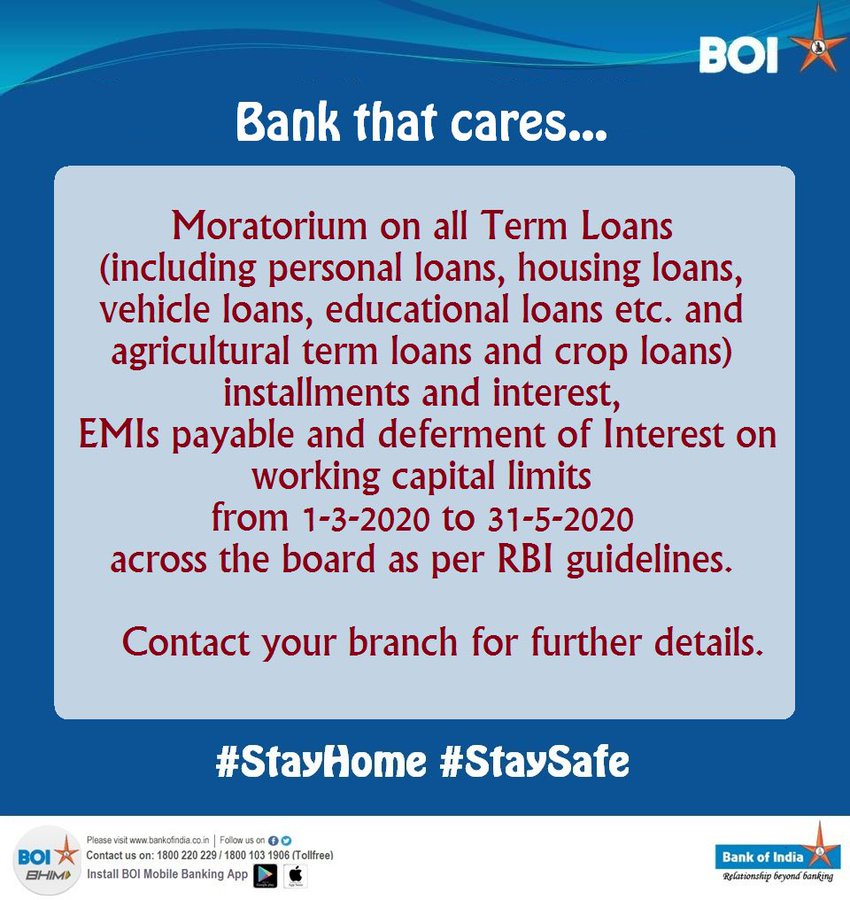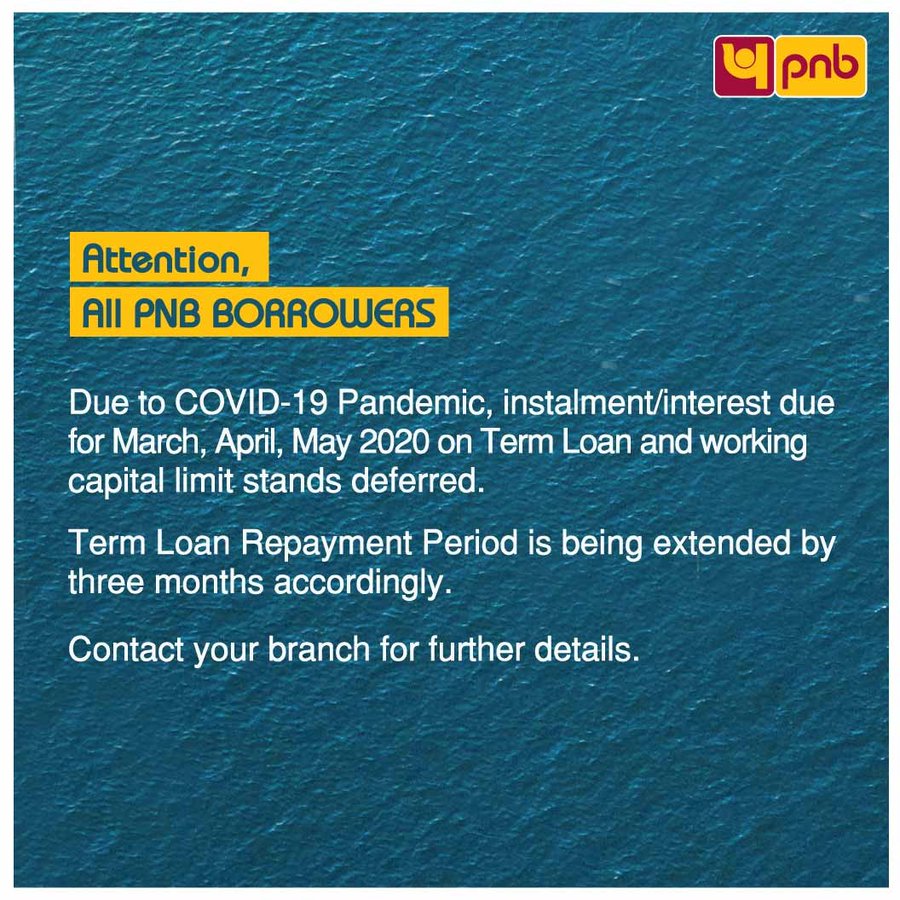 SBI has initiated process to defer EMIs and interest on term loan falling due between March 1 to May 31 and extend repayment period by three months
In a bid to mitigate the impact of the coronavirus outbreak on businesses and individuals, three commercial lenders, including State Bank of India, have offered a three-month moratorium on term loan installments to their borrowers.  
SBI, the country's largest lender, on Tuesday said that it has initiated steps to defer equated monthly installments (EMIs) and interest on term loan falling due between March 1 to May 31 and extend repayment period by three months. The interest on working capital facilities for the given period has also been deferred by three months, it said.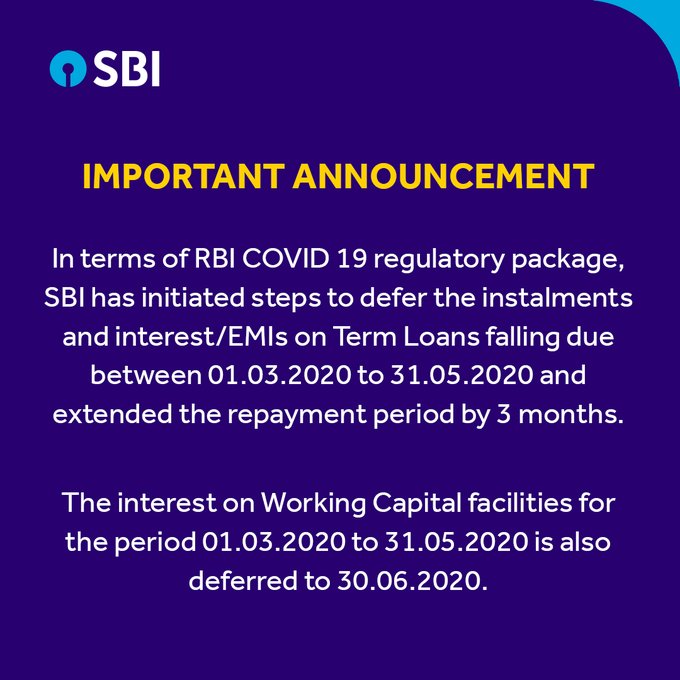 SBI has already cut interest rate by 75 basis points to pass on the complete rate cut benefits to its borrowers availing loans linked to external benchmark linked lending rate (EBR) and repo linked lending rate (RLLR).
In a similar fashion, public sector lender Canara Bank announced that customers can avail three-month moratorium on term loan installments and interest payments/EMIs falling between March 1 to May 31, while repayment period will get extended accordingly.
"In terms of Covid 19- RBI package, borrowers are eligible for moratorium/ deferment of installments/EMI for Term loans falling due from 01.03.2020 to 31.05.2020 & repayment period gets extended accordingly. SMS also has been sent to customers to avail the same. @DFS_India #COVID," Canara Bank said in a tweet.
IDBI Bank has also provided its customers a moratorium on term loan instalments and interest payments for a period of three months up to May 31, 2020.  However, those customers, whose cash flows have not been impacted, have been given the option to pay as per existing schedule.
The decision is likely to provide major relief to customers, especially middle-class borrowers.
In a similar line, other banks are also expected to offer deferment on payments of installments for all term loans to provide some cushion to individuals, businesses facing a big economic challenge in the wake of the 21-day lockdown announced by the government.
The development came five days after the Reserve Bank of India (RBI) asked all banks and lending institutions to provide a three-month deferment on payments of installments for all term loans that were outstanding as on March 1.
Last Friday, the RBI governor Shaktikanta Das had said that all lending institutions and banks had been allowed to defer interest on working capital repayments by three months. It had said that moratorium on term loans and deferment of interest payment would not result in asset classification downgrade. The central bank has allowed banks to reassess the working capital cycle and said that they won't be treated as non-performing assets.
An HDFC official said the housing finance company will communicate with its customers in a day or two on the options of the moratorium.
Borrowers can defer the repayment of both the principal and interest components of the loan. However, interest will continue to accrue on the outstanding amount. The residual tenor of the loan will also be shifted accordingly.
Pain points
The confusion lies in the fine print of the deferment. For customers, it remains unclear whether they need to approach banks for seeking a temporary halt in EMI repayment or whether it will be done automatically.
For instance, banks like PNB and BoI require customers to contact their respective branches to opt for the deferment. But the IDBI Bank has specifically clarified that the EMI moratorium will be uniformly applicable to all customers unless a customer specifically writes to the bank saying they wish to continue paying EMIs.
However, most banks are yet to provide this kind of clarity even though four days have passed since the RBI's announcement.
There is also confusion on the due EMI payments of March.
Though the RBI notification issued on 27 March permitted lending institutions to grant a moratorium on payment of all instalments due between 1 March and 31 May 2020, banks continued to debit EMIs.
:::::- IMPORTANT LINK-:::::